Magnets for Manufacturing Applications
Magnets for all manufacturing applications – we will work with you to guarantee you get the magnet you need, on time, at the right price.
Neodymium – Injection Molded – Ceramic – Alnico
EAM supplies magnets to manufacturers. That has been the main focus of our business since we were founded, and we pride ourselves on our extensive track record supplying high quality, low cost magnets to virtually every industry.  Auto, medical, aerospace, defense, and electronics. Magnets for sensors, gauges, switches, actuators, motors, controllers, speakers,  – even wine accessories and guitar pickups. Our quality control system is among the best in the industry, and we have the resources to help you make the best choice possible for your magnet application.  Whether you need a custom injection molded magnet made to your exact specification, our help sourcing a sintered neodymium magnet from a reliable supplier, EAM will get you exactly what you need – at the right price.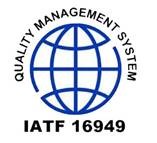 EAM is IATF 16949 certified.
Our customer was producing air core gauges using an older process using ceramic magnets. The magnet was zinc die cast
Most magnet assemblies are made the old fashioned way – by gluing the magnet(s) to a backing plate, shaft, hub,
You have seen display messages in airports and other transportation terminals. They may look like LEDs but these displays are
Contact us about manufacturing solutions
Why Choose EAM?
Fast prototyping
Experienced team of magnet specialists
High volume capacity
Quality – IATF 16949 certified
Domestic and offshore supply chain options
Local stock, JIT delivery available