Electronics industry applications often require magnets made to tight specifications – EAM can help.
Tight Tolerances – Custom Designs
EAM has been supplying magnets to the electronics industry for decades.  Our quality control system is among the best in the industry, and we have the resources to help you make the best choice possible for your magnet application.  Whether you need a custom injection molded magnet made to your exact specification, our help sourcing a sintered neodymium magnet from a reliable supplier, EAM will get you exactly what you need – at the right price.
Contact us about any type of electronics application – sensors, reed switch, TMR, motors, counters, motion control, actuators and many more.
You have seen display messages in airports and other transportation terminals. They may look like LEDs but these displays are
Technology that other vendors couldn't supply was developed by EAM. Here's what we did to provide the solution… One of
Contact us about electronics solutions
Why Choose EAM?
Fast prototyping
Experienced team of magnet specialists
High volume capacity
Quality – IATF 16949 certified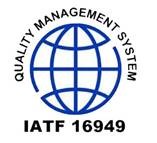 Domestic and offshore supply chain options
Local stock, JIT delivery available